About Little Dinners
Little Dinners is a family owned and run business established in spring 2000. We are the country's most innovative, passionate and quality driven provider of balanced and nutritious children's meals. Our client list includes many of the country's most prestigious childcare providers.
Our greatest asset is our dedicated team who work each day to provide our customers with quality products and exceptional customer service.
Little Dinner's History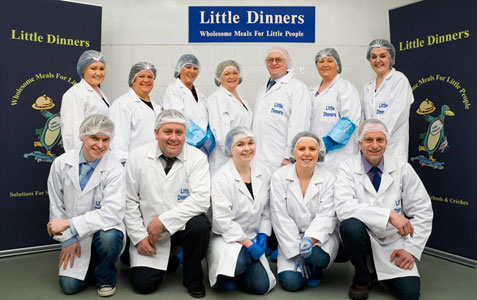 The initial concept was sparked by a family member who approached us seeking a solution to the challenges of providing hot meals in her Montessori Schools. Having spoken to other childcare providers it became evident that their experiences were similar. Bearing this in mind, we set to work.
The idea was, to develop a model based on customer needs, which would provide a comprehensive first class service. At an early stage, it became obvious that to provide a product of the quality our customers deserved, we would have to produce it ourselves. Our approach is completely different, in that we maintain full control of every aspect of the process including customer relations, product development, ingredient sourcing, as well as production, quality control and delivery to our customers.